Faculties & Students
GD Goenka Global School
OUR AIM
There are several Student Services to support students while at GDGGS:
THE GUIDANCE CELL
HOW DO WE FUNCTION AND WHAT DO WE DO?
At GDGGS, we give importance to the need for guidance to help to students imbibe a value system that offers them a happier and brighter future.
We encourage students to develop strong individual identities, while learning to use appropriate social skills, including learning to communicate and manage their emotions and opinions when interacting with others. Students are given guidance to make healthy life choices, develop positive attitudes and behaviour towards difficult challenges and serve as responsible and respectable members of society. This process of guidance is continuous throughout the school.
Our Counsellors are accredited, qualified and well trained. Always approachable and willing to walk that extra mile with anxious young minds, our counsellors work in tandem with the students, their parents and teachers to achieve the best possible outcome academically, socially and personally.
We understand that parents have enormous expectations of their children and we are suitably equipped to steer them towards making the right choices.
WE FOLLOW A THREE-PRONGED APPROACH
At the Primary level (pre-school to Grade V), we follow the Personal, Social and Health Education (PSHE) curriculum set by the Primary Years Programme. It integrates classroom modules with PSHE, resulting in the all-round development of the students. During classroom interactions dedicated to PSHE, the faculty observes the children closely and collaborates with the counsellor to help out students (when required) on a one-is-to-one basis, in and outside the class. This is done in tandem with the class tutor as well as the parents.
THE ACADEMIC COORDINATOR AT GDGGS
Through leadership and communication, professional and curriculum development, documentation & resource management, the Academic coordinator, Academic, Guidance and Special Education department at GDGGS are given the opportunity to develop administrative skills that build a strong school culture, shared values, beliefs and commitment to GDGGS.
With a commitment to a common vision and purpose, they have an international mind-set, with an eye on the big picture. Understanding the various needs of children, especially the academic and social needs of young children, they are good mentors who perform their duty with diligence and flexibility.
In the process of planning, organising, coordinating, collaborating and relationship-building, they exhibit instructional leadership, while developing/evaluating curricula and encouraging the professional development of their colleagues.
With a thorough understanding of the International Inquiry-Based Curriculum and strong IT skills, they communicate effectively, exercise good judgment and participate in building collaborative structures that are reflective of their attention to detail, high standards, belief in accountability and desire for continuous improvement.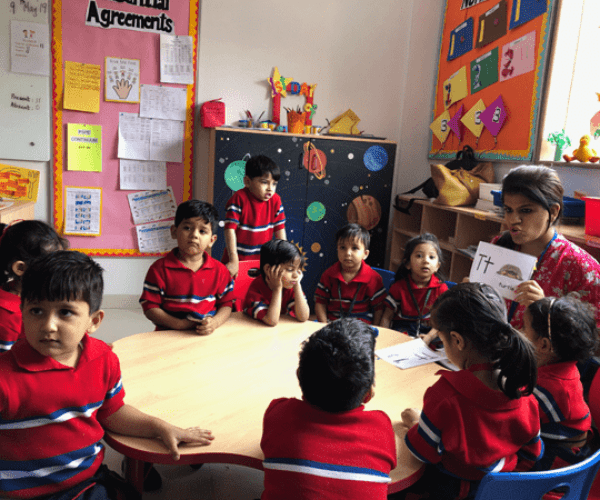 SEP
Special children have special needs that require trained expertise and insights delivered with greater sensitivity and support. The Office of Special Education directs and supports the development, implementation, operation and evaluation of Pre-K to5 educational curricula and services that meet the unique needs of students who are differently-abled.
Targeting the learning and development of each child with special needs, SEP makes the process easier and more effective for these children while preparing them to meet the requirements of the ordinary world.